Last night I was so happy to hear that big brown UPS truck pull infront of my house. I knew exactly what it was - My new
Easy Lunchboxes
! Even though to Little Miss, the only difference she'll notice is the fun lid colors, I like how much thicker they are than my disposables. Plus they're also dishwasher, microwave, and freezer safe - Win!
I also realized this morning I had not had a Hello Kitty appearance in quite sometime (
that is just unacceptable, especially considering how much Little Miss LOVES her
).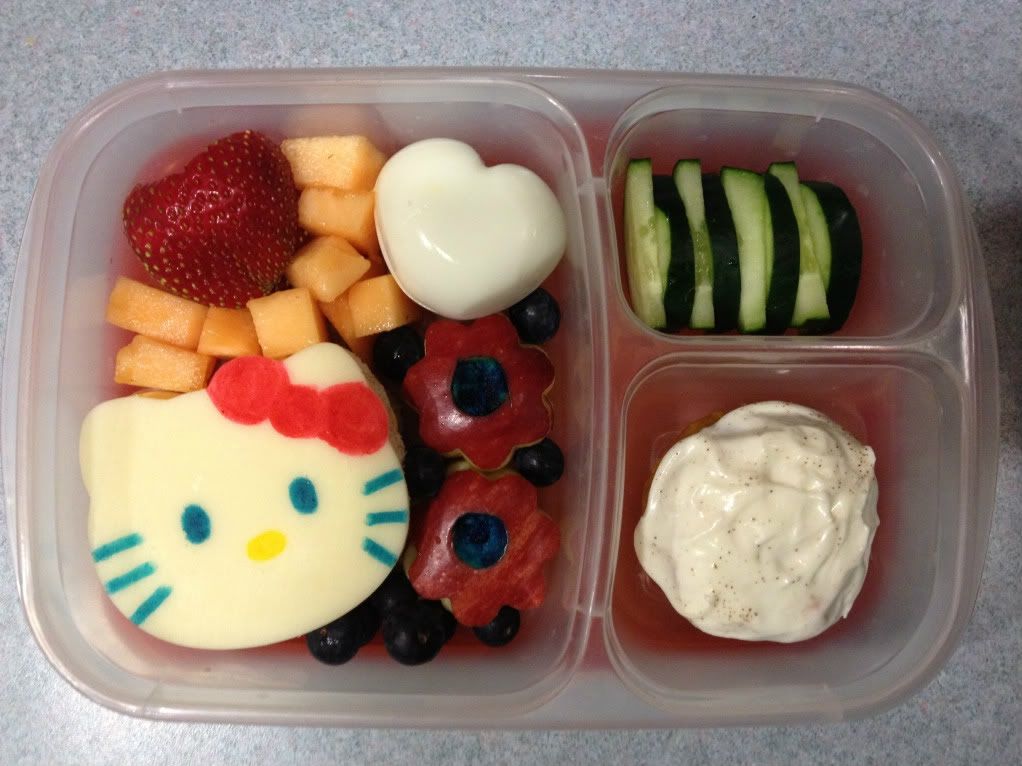 Hello Kitty cutout sandwich with a slice of provalone cutout ontop. Decorated with my Betty Crocker food writer pens to draw her face.
There are stacked apple slices I cutout with my flower cutter. I cut out a circle in just the peel in the center then colored it in blue with my BC food writer. The apple flowers are surrounded by blueberries.
There's a heart shaped hardboiled egg, done in my heart egg mold. I also cut the stem off on a large strawberry in the other corner to try and mimic the heart shape. The egg & strawberry are surrounded by cantaloupe dices.
Bottom right is a
pumpkin cupcake
with cream cheese frosting. Top right are cucumber slices.
Not pictured: Fruitables juice box.