Thursday marks the
First of December
! Can you believe it? Where did the year go??
It also means
24 days left
on our Christmas Countdown!
I'm pretty much in love with this lunch, by the way :) lol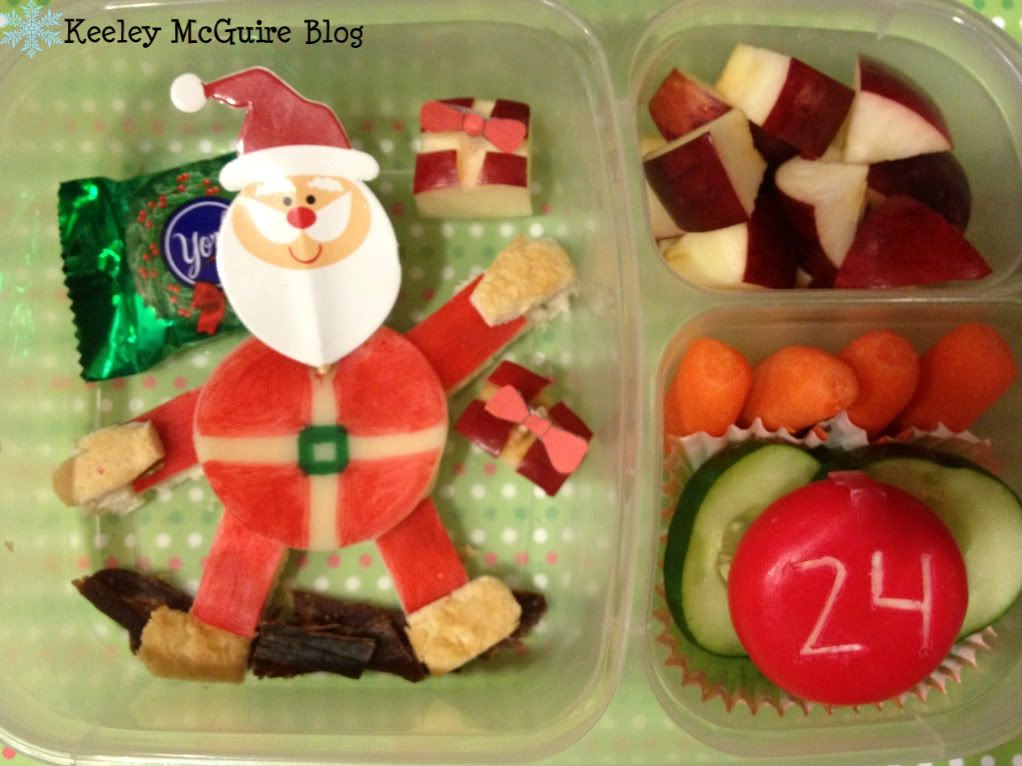 Inspiration came as soon as I bought these Santa head picks last week. I couldn't wait any longer - I wanted to make him!! lol
Santa's body is a sunbutter & honey sandwich, cut out with a circular stainless cookie cutter. I then made his limbs just using the remainder of the bread pieces. His feet & gloves are from the crust.
He's topped with provolone cheese and decorated with my Betty Crocker Food Writer pens for coloring.
(The
sunbutter
sort of acts as a "glue" to hold all the bits together, in conjunction with the pick.)
She has a mini-york peppermint patty as as dessert treat tucked under Santa's head.
Around Santa's feet are some beef jerky bits. (
One of Little Miss's FAVORITE things on the planet - Beef Jerky and/or Slim Jim's. hehe)
The "presents" are apple pieces. I cut away the peel to make it look like ribbon. The bows are homemade picks - just bow cliparts I printed off the computer attached to picks, similar to
yesterday's top hat
.
Top right are the rest of the apple dices.
Bottom right are some organic baby carrots and a holiday liner with cucumber slices.
The babybel cheese is on top - I hand carved into the wax today's magic countdown number
24
keeping with the advent theme.
Packed inside a
EasyLunchBox
.