The next theme on the
Bento Blog Network
Bento of the Week Challenge are Sandwich Balls, aka "Bread Onigiri" (here's a good tutorial I found, if you're interested --->
Bread Onigiri)
As I made the balls, I did a couple different sizes as I wasn't sure how they'd turn out. Then the idea came to me to make it into a cute little bunny. :)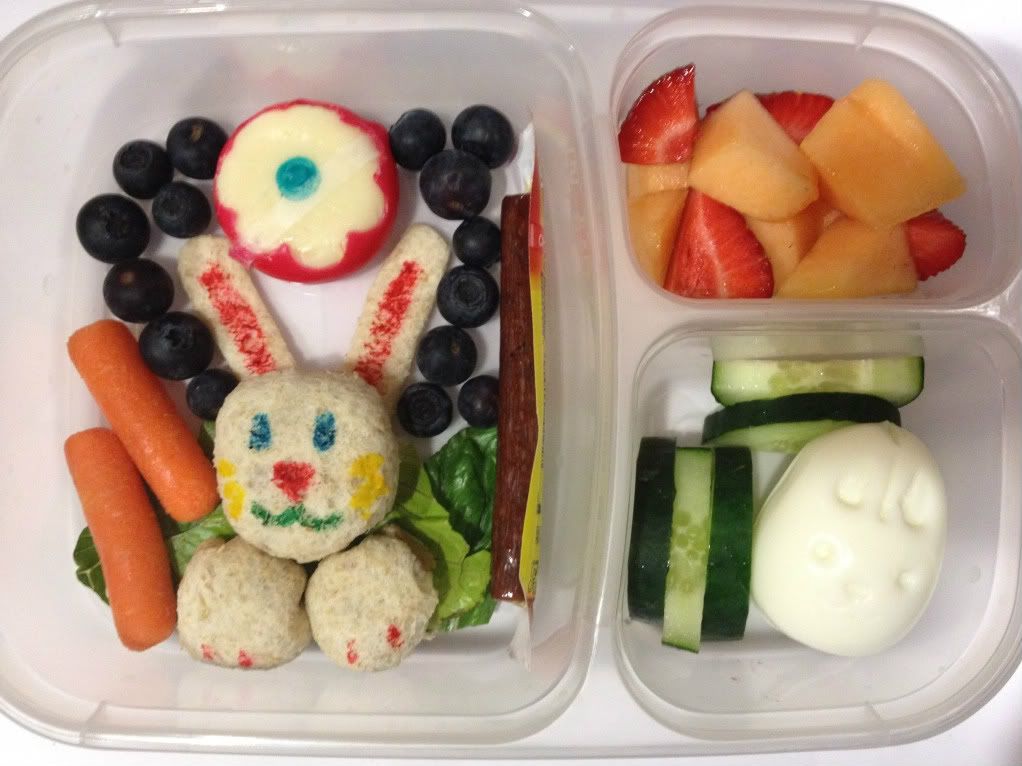 Little Miss's bunny sandwich has a Sunbutter & Honey filling.
The sunbutter & honey really helped "glue" the ball together since they're so sticky - It's also one of her FAVES!
I made two smaller balls for the feet and a larger one for the head. The ears are just two flat pieces. Details are colored with my BC food writer pens.
The bunny is on a bed of romaine and has two baby carrots beside him, incase he gets hungry of course. Bunnies gotta eat too, ya know! ;)
There are blueberries scattered, a beef stick (for some meaty goodness), and a babybel cheese. I used my mini-flower cutter to peel off the wax in a flower shaped and colored the center blue with my betty crocker food writer pen.
Bottom right is a bunny hardboiled egg done in her bunny egg mold
(sorry the lighting from the camera took away from some of his little facial features)
and some cucumber slices.
Top right are cantaloupe & strawberry dices.
Not pictured: Fruitables juice box.