Since this Mama and her Little Miss are taking a vacation, I won't be making lunches... or near a computer, if I can help it, for a full week. :)
Just before Ludicrous Mama of
Biting The Hand That Feeds You
welcomed her new ADORABLE baby into the world, she took a siesta from blogging and did these amazing auto-post features on fellow bento bloggers.
(
Click here
to see the incredibly sweet and HILARIOUS write-up she did on Keeley McGuire Blog.)
I thought it was a fabulous idea! So while I'm away, I'm going to share some of my favorite posts from some of my favorite bento peeps, focusing mostly on hearts/love/Valentine themes to help give y'all some inspiration with the upcoming holiday!
First up, naturally, is the infamous Ludicrous Mama!
(I will warn you, my sarcasm and hilarity come no where close to hers! It's one of the things I adore most about her posts, comments, etc. - they ALWAYS make me laugh! Don't believe me? READ THIS!! LOL)
Ludicrous Mama makes adorable bentos and muffin tin meals for her daughter, Little Z. Her daughter refers to them as "Beautiful Lunches" - and that they are Z!
Check out this super adorable muffin tin meal she created based on the Juice Newton "Playing with the Queen of Hearts" song:
She referred to it as "
Eating with the Queen of Hearts
". So cute! Love the crown, picks, and the pink sprinkle heart added to the yogurt cup.
I love that Ludicrous Mama keeps it simple - fruits, veggies, cookie cutters, and adorable picks. Easy enough for anyone to do, much like the bentos I make for Little Miss.
Here's another fantastic heart themed muffin tin meal she made for Little Z: "
Be Mine, Valentine
!"
Little Miss would love that!
I have to include some of her fabulous bentos in
EasyLunchBoxes
of course! She's Kelly, of ELB's, #1 fan and cheerleader ;) but I love that about her - she is one of the peeps that got me interested in and hooked on my EasyLunchBoxes. (
Thank you!!)
Little Miss would be so jealous if she knew Little Z got these wonderful
Sleeping Beauty bentos
!
We all know little girls LOVE their disney princesses :) I adore the princess sandwiches, cheese crowns, and the special carrot flowers she made for this meal. (
Note to self: Must buy princess cutter... or hide proof of this post from Little Miss for all of eternity
.)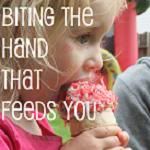 You can checkout more of Ludicrous Mama's lunch love (and sarcasm) on her blog
Biting The Hand That Feeds You
or on
Facebook
.